Version 4.0 USB PLUS
These Birdog are refurbished by Satellite Oasis and in excellent condition. We purchased these from a broker for a major satellite TV service provider. All units are tested and have guaranteed working batteries. Battery problems are the main issue with satellite meter life. We've done the work for you and made sure you have a good battery!
This listing comes with a BRAND NEW case made by the manufacturer of the Birdog: Horizon. We imported these straight from London, England. The benefit to this style case is that you can use the strap to make the Birdog hands free while you aim the dish. A definite plus for the person that is going to use the Birdog daily.
Product Features:
OEM carrying case
USB data cable
A/C Cord
Preconfigured satellite list installed by Satellite Oasis
Compatible with SWiM LNBs. SL3S and SL5S (requires power passing splitter)
CONDITION: Refurbished. Units may have scratches in various locations on the item. All units will be in good cosmetic and good working condition. Trust our feedback!

Here is the satellite list installed in Birdog you'll receive: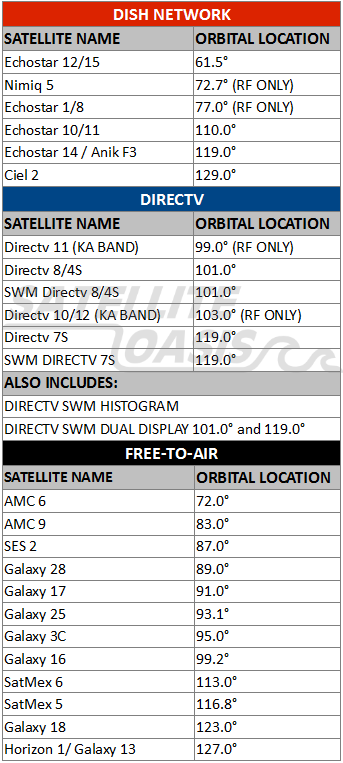 Many other satellites can be installed and Birdog.tv site will let the user create custom satellite lists.
View this page for details :http://www.birdog.tv/configure.aspx?page=3
Some may wonder:
What is the difference between the Birdog version 3 and the Birdog version 4?
Watch our video below to find out!
Customers Also Viewed
Related Products